---
Product:
Self-Balancing Valve
Item No.:
ZL47F
Calibre:
DN15-400
Nominal Pressure:
1.6 Mpa
Description: ZL47F self-balancing valve, is a kind of use of the pressure of the medium itself to control itself, so as to maintain the flow through the alleged system flow balance valve, with flow indication, can be adjusted online, suitable for heating and air conditioning system and other non-corrosive media flow control.
Specification: A one-time test adjustment before running allows system traffic to automatically be constant at a pre-set set value. The valve flow adjustment is accurate, simple to operate, balanced action, reliable performance, long service life.
Product Performance of Item No. ZL47F
ZL47F自力式流量平衡阀(带锁) 主要技术参数
| 公称压力(MPa) | 壳体试验压力(MPa) | 适用温度 | 适用介质 |
| --- | --- | --- | --- |
| 1.6 | 2.4 | ≤100℃ | 水、油等非腐蚀性液体 |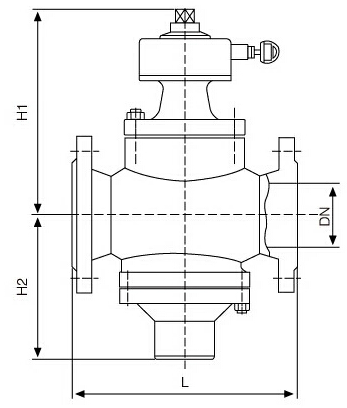 三、ZL47F自力式流量平衡阀(带锁) 主要连接尺寸
公称通径 (mm)
尺寸(mm)
L
H1
H2
15
110
122
70
20
110
122
70
25
115
137
74
32
160
182
91
40
200
191
147
50
215
197
147
65
230
205
154
80
275
259
181
100
290
268
211
125
315
334
227
150
350
357
260
200
430
407
303
250
520
452
367
300
635
486
430
350
670
555
495
---
All Copyright © Shanghai Petro Valve Factory
Factory Add: No.318 Fulian 2 Road, Baoshan Disctrict, Shanghai City, China
Marketing Add: No. 301-3, Lunchang Road, Lunchang Town, Nanan City, Fujian, China
Tel: 0086 595 23225000, 0086 189 0505 9981
Email: topval1992@163.com